Book Review: Reminders of Him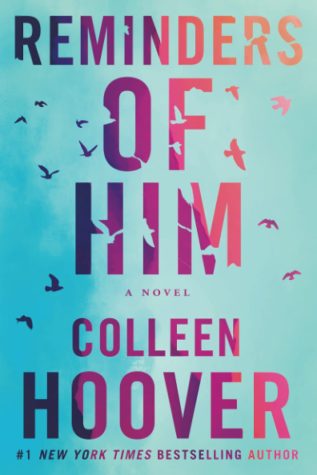 "Now that I've forgiven myself, the reminders of him only make me smile." -Colleen Hoover
GENRE: Romance
PUBLISHED: January 18, 2022
RATING: 5 stars 
ABOUT:
In Colleen Hoovers' fan favorite, "Reminders of Him," she deep dives into the harsh realities of grief, self-doubt, redemption, and forgiveness. The captivating dialogue immediately draws the reader in as Hoover begins to tell the tale of young, beautiful, and guilty, Kenna Rowan.
After serving five years in prison for a tragic mistake that left countless lives shattered, Kenna travels back to her hometown hoping to reunite with her four-year-old daughter, Diem. For the first few months in prison, Kenna was pregnant with Scotty Landrys' baby, convicted of involuntary manslaughter, and unintentionally killed the love of her life, leading her to lose custody of her child to Scotty's parents. 
The book opens with Kenna visiting the place where Scotty died. She vigorously fights to put her life back together, ultimately wanting to prove that she is a responsible adult who has worked through her grief and desperately yearns for forgiveness. While trying to earn the custody of her daughter back, she accidentally meets Scottys' best friend (Ledger), and not realizing who the other is, they instantly fall for each other.
Later on, the book reveals that the night of the accident, Kenna and Scotty had been driving in a convertible with the top down, and no protection. Clearly, alcohol, blaring music, and driving did not mix well as they soon crashed and both suffered serious injuries. Kenna was so disoriented after the crash she fled the scene, unaware that her boyfriend was still conscious. By the time the sun rose the next morning, Kenna had been taken into custody, with Scotty's blood on her hands.
Fast forward five years, the Landrys are still completely resistant to allowing Kenna into Diem's life. The struggling mother undergoes many challenges, socially and emotionally. However many obstacles she faces, she is determined to find a way to absolve her mistakes, in order to live a life full of hope and healing.
REVIEW:
 WARNING: do not start a COHO book on a school night! You WILL end up reading through the night because it's just that good! The number of times I felt my throat closing and chest dropping was ridiculous. Those feelings were prominent throughout the entire novel, making me hurt in all the right ways. Though the novel did not make me feel as light-hearted compared to her other books, I did feel something! Grief. Admiration. Hope. Discouragement. Anger. But also happiness!
If you don't consider yourself a 'regular' reader, that's ok! I don't necessarily consider myself one either, and I fled through the pages! From the minute I started it, I could not put it down and I finished the book in just one day. The novel is filled with so much passion and grief, I cried twice. Furthermore, Colleen Hoover's "Reminders of Him," reveals just how far someone will go to earn forgiveness, and start down the path of healing.
 In addition to surpassing my standards for Hoover books, this novel was incredibly motivational because it illuminated how every individual can earn redemption, and work through grief. My favorite aspect about Hoover's books is her emotionally charged, sob-worthy writing that develops the complexity of her characters. Without even noticing, I found myself relating to the emotions that the characters faced. Furthermore, as I was reading Kenna's character I was led to the realization that just because individuals make bad decisions, that does not mean they are inherently bad people. Kenna completely surpasses that realization in her continuous fight for her daughter and ultimately illustrates that though there is no exact 'path' to happiness; her fight to earn a place in society and obtain time with her daughter leads her on the path to happiness. Ultimately, joy is a byproduct of the choices one makes. Meaning individuals are the architects of their own story and have the ability to change their path and obtain happiness.